Keeping Yourself Safe: Impostors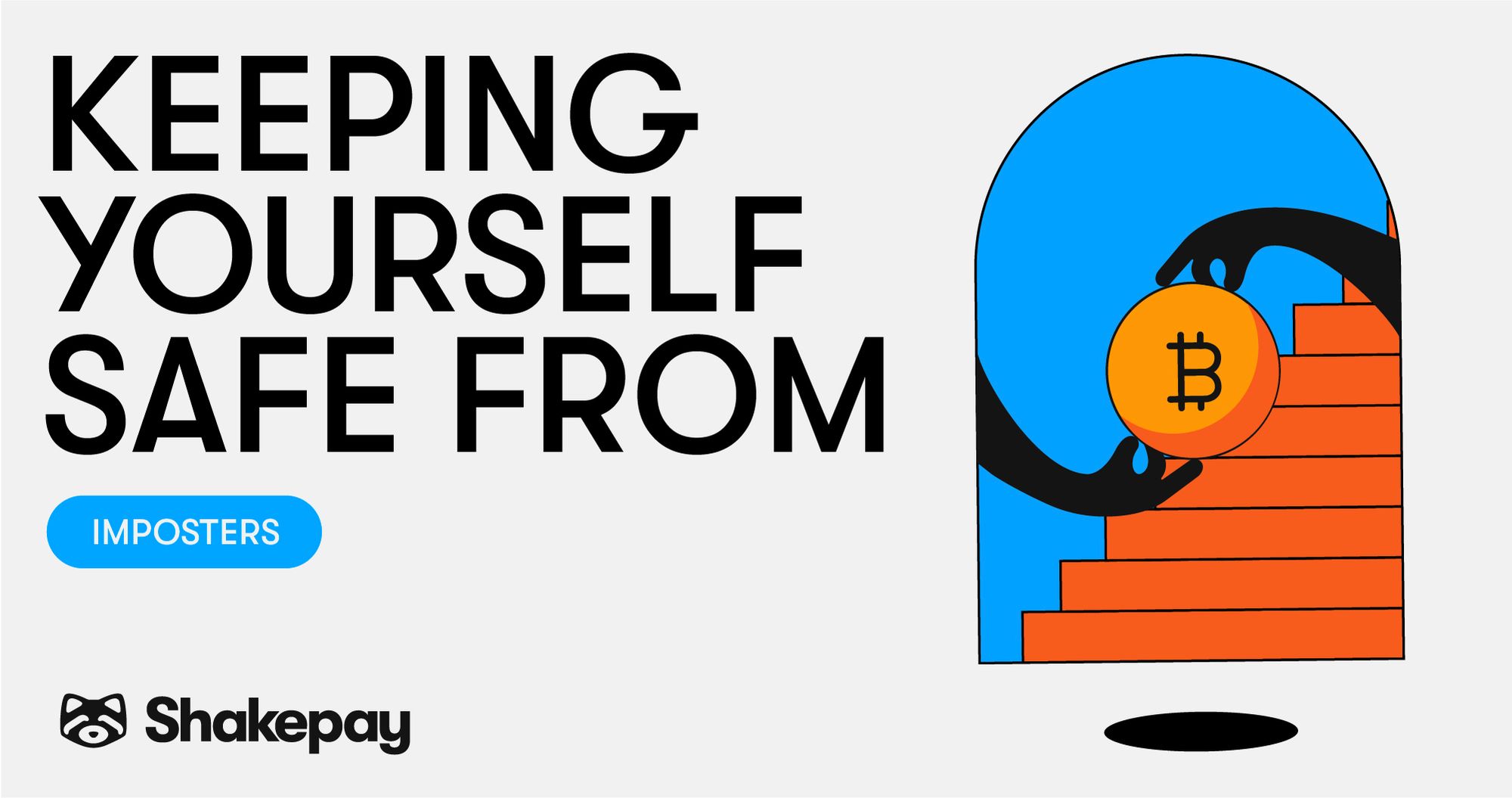 Shakepay has developed this material to make customers aware that scammers are always looking for new ways to part you from your money. The case study below highlights some of the risks of transacting with crypto. We hope that you will be vigilant before sending any crypto out of your Shakepay account. Remember, crypto transactions are different from traditional bank transfers and are irreversible.
These cases studies are intended as educational content. If you are concerned about a potential scam, please contact Shakepay customer support.
There are three types of Impostor scams:
Shakepay Support impostor scam
Posing as a loved one on social media
Celebrity impostors
Scam type: Shakepay Support Impostor Scam
We have come across a few cases where customers have reported that they were contacted by email, phone calls and social media by scammers who are pretending to be Shakepay staff. This is a rising trend in fraud. Additionally, on our official social media posts, we have noticed that scammers are commenting with "giveaway scams" which promise to double or triple your Bitcoin provided you send some Bitcoin to them.
Please be advised that our customer support team will reach out to customers via email and the customer support chat only. We will never call you, and we will never encourage you to make any transactions to a wallet address you do not own. If we ever host a giveaway, you will be able to see all the terms to participate on our official website and our official social media accounts.
Do:
If someone reaches out to you on social media or through emails pretending to be a member of the Shakepay support team, please cross verify with our Support team before responding to those messages.
If you receive an email that looks like it's coming from Shakepay, please double check the email address and make sure it is a valid Shakepay email. Be very careful of small typos that could look like Shakepay if you only take a quick glance (for example: Shakeppay, Shakepayy, etc.).
If the contact was established through social media, block that account immediately.
Please report the incident to Shakepay Customer Support team.
Don't:
Please do not make any transactions if you were provided with a Bitcoin or Ethereum wallet address.
Exercise discretion before sharing any credentials on social media.
Please do not follow any instructions from messages before validating the identity of the individual who is instructing you.
Scam type: Posing as a loved one social media
John has an Instagram account and he has made several posts about his interest in crypto. John and Jane are good friends in real life and there are photos of them together on Instagram. Scammers notice this and create a fake Instagram account with actual photos from Jane's profile. Fake Jane now sends a message to John about investing in crypto and suggests John use a fake exchange or a fake Shakepay website. John, who trusts Jane, decides to invest in the fake platform without doing any due diligence. After investing, he does not hear from the fake Jane profile. Now, John is concerned and calls Jane and finds out that he has been dealing with an impostor all along. John is the victim of a scam.
This is the most recent trend and it is quite alarming how these scammers poach pictures of your loved ones and use the same photos to create fake profiles.
Do:
If you receive a private message on Instagram from a person that you know well, please double-check their profile.
The fake profile that is owned by the scammer will most likely block the real loved one's profile to avoid being reported. Ask your loved ones to search for the suspected fake profile.
Before responding to the message, please reach out to the real person using a different channel of communication.
If the suspected profile is found to be fake, please block and report it to our Customer Support Team.
Don't:
Do not share credentials in private messages on Instagram.
Please do not send any cryptocurrency or share your private keys.
Please do not click on links provided in private messages since they can be malicious.
Scam type: Celebrity website impostors
This scam is well known, and commonly becomes more prominent during bull runs when crypto prices are increasing in value. We have seen cases where users fall for scammers pretending to be Tom Brady, Justin Trudeau, Keanu Reeves, Elon Musk and Michael Saylor, to name a few. The scam is made more convincing through the use of domain names which contain the celebrity names. For example, muskbtc.com looks like a legitimate website if due diligence is not performed.
Do:
Be suspicious of any celebrity reaching out to you for investment in crypto.
Before responding to a message from a celebrity regarding crypto, please reach out to our Customer Support Team to report the situation.
Don't:
Send crypto to anyone that promises you a greater amount in return.
Send crypto to anyone that you do not personally know or have met in real life.