It's been a busy week over at Shakepay HQ. Here's what's new in our latest app update (v1.2.374)!
Links for download
Google Play Store
Apple App Store
---
More accurate pricing
We released an update to the way we display pricing on the apps. This is a purely aesthetic update as our backend will always sell at the best price at the moment of your transaction. We're now making sure you get a better understanding of how much will be received when buying or selling BTC and the CAD-equivalence on your BTC balance.
In-app support chat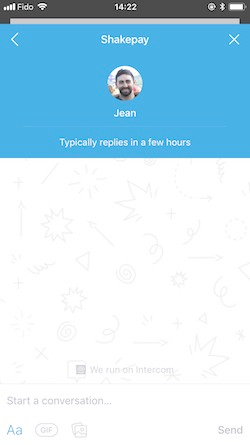 Stop emailing, start chatting! We've added a support chat in the Settings page. This will allow you to communicate with us directly without having to open up a ticket via email. We're a friendly bunch so if you have questions or comments, feel free!
Feature Requests
We setup a feature request board where you can share your thoughts on Shakepay. Please share any bugs you've found in the app or any new features you'd like to see in later updates.
Bug fixes
Fixed connection issues for previously logged in users
Email verification has been enabled
Today, we're really excited to have Sophie Bouchard join the Shakepay team as the Finance Operations Manager. Please welcome her to the team 🎉
---
About Shakepay
Shakepay is making it super easy for Canadians to buy bitcoin and send/request money from their friends. We're a tight-knit team of fierce warriors taking on the old, decaying banking infrastructure head-on. We're hiring in Montreal and Toronto, join us!